Elevating Workspace Dynamics: The DBHW Wealth Partners Project Unveiled
Unique design solutions that elevate the way people work and thrive.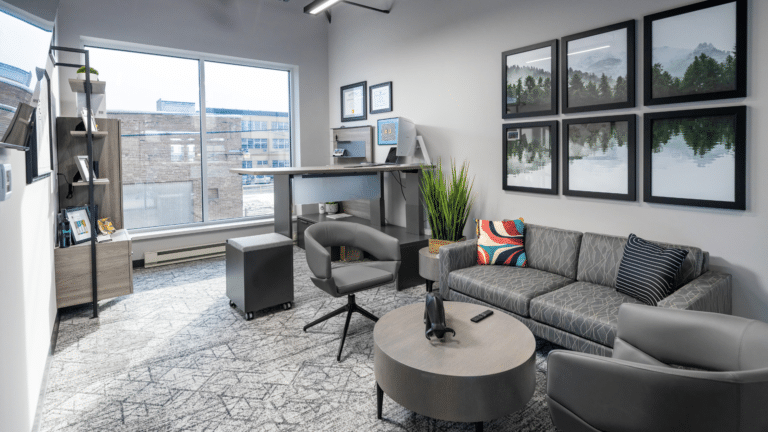 Embarking on a space transformation journey with DBHW Wealth Partners  was a true delight for our team at CJ & Associates. On this project, we had the privilege of partnering with a client to achieve  a clear vision, bringing unparalleled enthusiasm and collaboration to the table. This collaborative effort extended beyond our professional design team; working with OneSource Construction Corporation and Thrive Architects also played an integral role in bringing the space to life.
To better understand our client's preferences and aspirations, we set off on an inspiration finding field trip to the renowned Merchandise Mart. Exploring the showroom examples allowed us to witness firsthand the latest trends and innovative solutions that resonated with our client's vision. Additionally, we thoroughly examined the client's curated Pinterest boards, which provided invaluable insight into their likes and aesthetic goals. Using all the information, we conducted a series of design discovery meetings which clearly defined their final "Industrial Chic" design intent.
Drawing from a carefully selected range of product solutions, including Teknion, JSI, and Arcadia, we crafted a design that seamlessly integrated functionality, style, and brand coherence; no detail was too small in our pursuit of perfection. From the mitered concrete edge at the garage door, to the outdoor patio, to the meticulously tailored office spaces, each element was thoughtfully and intentionally selected to create an environment that harmoniously combined a sense of warmth with a professional ambiance.
One of the standout features of the DBHW Wealth Partners Project was the implementation of 120-degree workstations. While their placement presented a challenge due to the spatial constraints, we recognized the significant ergonomic advantages they offered. By overcoming the hurdles and strategically laying out these workstations, we enhanced the well-being and productivity of the client and their team.
In this project, our design philosophy revolved around creating office spaces that were anything but cookie-cutter. We understood the importance of crafting environments that catered to everyone's unique needs and personalities. With a delicate balance between a homey atmosphere and a corporate setting, we plunged into personalizing their design. This thoughtful approach ensured that each team member felt a deep sense of ownership and comfort in their workspace, ultimately fostering productivity and a sense of belonging. The combination of homey and corporate elements created a harmonious blend that resonated with the individuals and reinforced the overall aesthetic and ethos of DBHW Wealth Partners 
This remarkable project exemplified the harmonious blend of vision, collaboration, and meticulous attention to detail. Through our partnership with DBHW Wealth Partners and the expertise of our contractors, we transformed their space into a beautiful testament to modern design and functionality. From the personalized office designs that catered to the unique needs of everyone involved to the careful selection of products and finishes, every aspect of the project was infused with a passion for creating a space that inspires and empowers. Reflecting on this transformative process, we are immensely proud of the environment we helped bring to life. This project is a shining example of our commitment to delivering exceptional, unique design solutions that elevate the way people work and thrive.