The conference room is absolutely breathtaking – a perfect testament to professionalism and sophistication.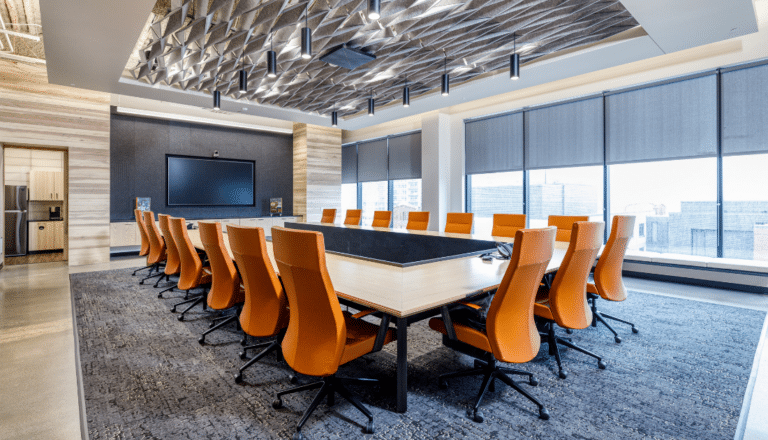 As industry leaders in the design of private offices and workstations, our team at CJ & Associates was the natural choice for the new WHEDA HQ Building in Madison, Wisconsin. And with the company being women-owned, this project perfectly aligned with WHEDA's goal of creating a healthy work environment with a modern industrial look and feel.
To bring this vision to life, our team collaborated closely with designer Jaime Denman from Potter Lawson. With special attention given to every detail, they carefully furnished common areas and conference rooms while outfitting the building with 156 workstations, 35 private offices, 2 kitchenettes, and a vibrant cafe-style workspace – all elements that create a perfect atmosphere for productivity!
By harnessing the power of Teknion furniture for our client's space, we were able to achieve an optimal balance between practicality and personalization. The combination of L- Shaped, height-adjustable desks ensured that employees could benefit from a healthy ergonomic workspace in their private offices. What's more, the workstations also came equipped with height-adjustable desks with dual monitors that increase productivity and ergonomic accessory items that provide comfort and ease of use.
The conference room is absolutely breathtaking – a perfect testament to professionalism and sophistication. At its center stands an impressive Teknion Custom Solutions conference table, a magnificent addition to the office. It's surrounded by Stylex Insight Executive chairs which add an astonishing finesse to the design that's simply unmatched elsewhere. No detail has been left to chance in this meticulously planned space and it's sure to impress with its extraordinary aura.
At CJA, we consistently strive to create exceptional results for our clients. Our team's commitment and enthusiasm, along with their ability to expertly handle the finer details, produced a truly remarkable outcome on this particular project. We continuously work to ensure our clients are supported throughout their journey with us – from start to finish, they can count on friendly guidance and attentive detail at each step.