Transforming a Chicago Office with CJ & Associates & Teknion
CJ & Associates with Teknion transformed a Chicago office space into a modern, versatile environment using purpose-built design. Read on to find out more about this special commercial design project.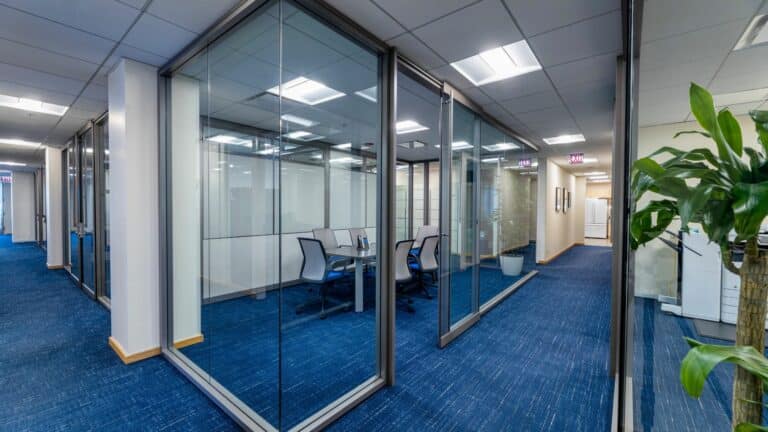 In the wake of the post-COVID era, a corporate office in Chicago faced the challenge of accommodating the evolving needs of its employees. The primary objectives were to reduce the overall footprint, update furniture solutions, and maintain flexibility. CJ & Associates, in collaboration with Teknion products, was the natural choice to answer this call, providing a comprehensive solution that ticked all the right boxes.
With the aim of fostering an adaptable and efficient workspace, demountable office walls with glass fronts were strategically integrated. This smart addition not only facilitated privacy when needed but also allowed for an open and collaborative atmosphere when desired. The office now exudes a sense of modernity and professionalism, all while maintaining the pride of brand awareness throughout the space.
Versatility and ergonomics were key priorities in visualizing and bringing to life the perfect office environment. Height-adjustable, modular desk systems were implemented across all offices, empowering employees to tailor their workstations to suit their individual preferences.
The result? A workspace that enhances productivity, promotes well-being, and adapts to the team's diverse needs.
Recognizing the importance of fostering teamwork and creativity, touch-down areas and collaborative meeting spaces were thoughtfully designed. These spaces encourage spontaneous discussions and impromptu gatherings, fostering a culture of collaboration and innovation. From brainstorming sessions to team huddles, the office now boasts vibrant hubs that fuel creativity and camaraderie.
Nestled against the breathtaking backdrop of the iconic Chicago skyline, the newly created office space is a sight to behold. The rejuvenating views serve as a constant reminder of the city's energy and help to recharge employees, inspiring them for the challenges ahead.
The partnership between CJ & Associates and our Chicago-based labor partners was a harmonious blend of creativity and craftsmanship. Together, we crafted a workplace solution that seamlessly integrates modernity, practicality, and style. The result is an office space that not only meets the company's current needs but also sets the stage for years of productivity and growth.
As the employees eagerly reoccupy this transformed office space, they do so with renewed enthusiasm and pride. The collaboration between CJ & Associates, Teknion, and our labor partners has brought to life a workspace that adapts to the ever-changing demands of the workforce, fostering productivity, collaboration, and long-lasting success.