Designing for Accessibility and Function
Creating a visually appealing and functional space for team members and guests with and without visual impairments.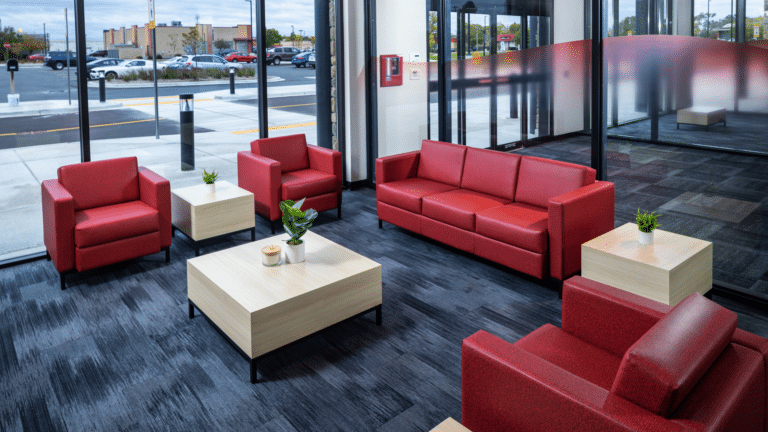 One of the most rewarding aspects of our recently completed project for Beyond Vision was an exciting opportunity to embrace new challenges while providing meaningful design services. Because Beyond Vision is an organization dedicated to improving the lives of the visually impaired and empowering them to pursue meaningful employment opportunities, accessibility and thoughtful design was mission-critical. The primary goal was to create an environment with enhanced contrast sensitivity to support team members and visitors with low vision. In addition, we were tasked with furnishing the entire space, including private offices, workstations, lounge areas, and a cafe.
Bray Architects, our partnered Architect & Design firm  on this project, chose dark carpet for the space. To increase the contrast of the room, our designers selected the Teknion Leverage workstations, an ideal choice due to their lighter-colored wood grain surfaces.  Additionally, pops of red were incorporated into the workstations to align with Beyond Vision's branding. For the private offices, we continued the theme of dark carpet and light furniture finishes with Teknion Expansion Casegoods. Global Furniture Group task chairs, coffee tables, and end tables rounded out a functional and comfortable seating arrangement for the lounge areas, accentuated with Teknion Banqs booths and tables in the cafe area.
Everything  selected for this project was chosen to create a visually appealing space for team members and guests without visual impairments and peak functionality for those with them. Because contrast sensitivity was central to the project, white TableX tables and black chairs were ideal for the cafe space. Meeting this project's challenges was vital to every CJ & Associates team member, so we were thrilled when the client was pleased with the result, and the space proved to be an excellent environment for Beyond Vision's entire staff.
This project was a great success, and we were proud to have been a part of it. Our industry-leading team of seasoned experts worked tirelessly to ensure the project was completed on time and within budget while exceeding the client's expectations. We look forward to future collaborations with clients who share our passion for creating beautiful and functional spaces.